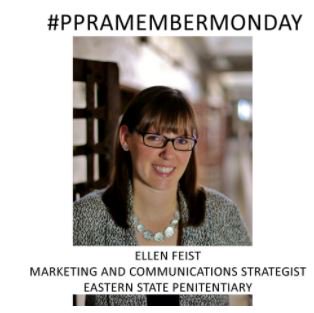 Ellen Feist is Marketing and Communications Strategist at Eastern State Penitentiary. She's been a PPRA member since 2001.
Twitter: @ellenfeist
Facebook: https://www.facebook.com/ellen.feist.39
LinkedIn: https://www.linkedin.com/in/ellenfeist/
PPRA: Ellen, tell us a bit about your background and your current job.
EF: I have worked in the marketing and communications department at Eastern State Penitentiary for the past 10 years, having a hand in the advertising, branding, promotions, media relations, website, and social media for both the historic site's tour program and the annual Halloween fundraiser, Terror Behind the Walls.
Prior to Eastern State, I worked for various non-profit organizations in Philadelphia, including the Theatre League of Philadelphia (Merriam Theater) as well as at SFPR, learning public relations from Sharla Feldscher, one of the very best! I received both my B.A. in Journalism, Public Relations, and Advertising and my M.B.A. in Marketing from Temple University. #TempleMade
PPRA: Who are your clients and/or what projects are you working on right now?
EF: We are getting ready to launch our 2018 season on May 1. This is the time of year we prep all the printed materials, press kits, and finalize advertising and promotions. I am looking forward to promoting the new artist installation Photo Requests from Solitary, which fulfills image requests from men and women held in long-term isolation. Visitors will be able to view requests and even help fulfill them.
I'm also busy reading resumes for a new Communications Specialist position on our team. Any recent graduates out there? Check out the job posting at easternstate.org/about/jobs.
PPRA: What is your favorite part about your job?
EF: I love getting to work on so many different aspects of marketing and communications. I get to think about how all the different elements work together to accomplish our goals. I also love the diversity in our programming. How many people can promote an exhibit about mass incarceration and the largest haunted house in the country all in the same day?
PPRA: What was your latest & greatest accomplishment at your job?
EF: This week marks my 10-year anniversary at Eastern State. When I first started, Eastern State was a small, off-the-beaten-path historic site. Now, it is a nationally recognized prison museum asking visitors to think about today's prison system and still teaching the significant history of the building and role of prisons from past to present. I'm proud of the work we've accomplished and how far we've come. I also feel there is so much more to do, and I hope to continue to be a part of it.
PPRA: What one piece of advice would you give to your fellow PR pros?
EF: It's important to never lose sight of the big picture. This is a stressful industry, and it's easy to get caught up in the daily defeats. Remembering the successes, big and small, as well as the ultimate goals, can help you stay focused and positive when things get tough.
PPRA: What book or movie could you read or watch again and again?
EF: I admire everything Disney, so I could read Be Our Guest over and over again. No one handles customer service and hospitality better than Disney. My favorite movie has always been Grease – I love the '50s and every type of musical.
PPRA: What's your favorite spot in Philly (museum, park, store, etc.)?
EF: My husband and I love a date night at Porcini on Sansom Street. They have the best homemade pasta anywhere, it's BYOB, and the Sansone brothers make you feel like part of their Italian family. I got engaged there, and my husband and I hosted our rehearsal dinner there.
I think Philly is a great city for kids and families. I love family outings to the Please Touch Museum or the Philadelphia Zoo. I grew up here, and I love taking my children to the same places I enjoyed as a kid.
PPRA: How do you take your cheesesteak?
EF: American cheese, fried onions, and hot peppers.
PPRA: Our PPRA 2017-18 PRoactive partnership is with Tree House Books. What was your favorite childhood book and why?
EF: I have always been a voracious reader, especially as a child, and I love seeing that same quality in my two children now. As a young child, I loved anything by Dr. Seuss or Shel Silverstein. I guess I was drawn to poetry, silly rhymes, and the fun and creativity you could have with words. As I got a bit older, you could always find me with a Babysitters Club Book in my hands. I was at the bookstore the day every new one was released and didn't leave my room until it was finished.